Navigating to Zero - September 2023
Volume 7 No. 8
September 28, 2023
AWO's Interregion and Coastal Safety Committees' Summer Meeting – More Presentations Available Online!
AWO's Safety Leadership Advisory Panel presented two days full of learning and networking opportunities during the 2023 Summer Safety Committees' Meeting in St. Louis August 16-17. Topics ranged from integrating alternative fuels into fleets, to human behavior and company culture, and much more. Below are highlights from just a few of the meeting's sessions. For access to presentation slides and video recordings from the meeting, members can visit
AWO's Resources webpage
.
Safe and Sustainable by Design:
A panel of subject matter experts shared techniques for increasing sustainability in fleets, including embracing technology and innovative design. Speakers included Mike Complita from Elliot Bay Design Group, Michael Eckart from Sherwin Williams, Michael Bhatiarian from Acentech, and Dr. Brandon Southall from Southall Environmental Associates (SEA), Inc. The panel discussed efficient vessel design, advanced coatings for hull and machinery, and programs aimed at reducing human noise impact on marine life in the Gulf of Mexico.
The Human Element:
Coastal Safety Committee Chair Jim Peschel led a panel discussion on human behavior and the importance of creating a culture of learning. Samantha Case of the National Institute for Occupational Safety and Health began with a presentation of her recently-published dissertation on how Coast Guard investigators consider human factors following towing industry incidents. Michiel Versteeg of Saltchuk and Chester Urban of Shell Maritime highlighted the importance of accepting that humans make mistakes and building on that understanding to improve organizational systems, rather than assigning blame following an incident. The panel also recommended ensuring workers feel supported when they raise concerns; establishing frequent opportunities for discussion before, during, and after work activities; and balancing chronic unease with complacency as ways to improve organizational culture and increase safety across the industry.
Case Studies: Integrating Alternative Fuels into Your Fleet:
Jamie Bigbie, Chair of the Interregion Safety Committee, moderated a discussion on alternative fuels in maritime fleets. Ben Parrish from Kirby Corporation discussed the company's new hybrid tugboat, the M/V Green Diamond, which utilizes batteries and diesel generators and has a self-charging capability. Matt French from American River Transportation Company discussed the company's zero-emission initiative and use of plant-based biodiesel as an effective lower-carbon alternative to traditional diesel fuel. Sam Lewis from Southern Devall highlighted his company's partnership with Amogy to deploy a zero-emission technology that utilizes liquid ammonia to generate hydrogen for fuel cell propulsion on board an inland towing vessel.
Safety Professional's Corner
| | | |
| --- | --- | --- |
| Jessica Robbins serves as co-chair of the AWO Environmental Stewardship Best Practices Working Group and is a member of the Safety Leadership Advisory Panel. She graduated from the Massachusetts Maritime Academy in 2007 with a bachelor's degree in international maritime business, worked at Kirby Inland Marine from 2007-2011, then started at Moran Towing Corporation in 2011, where she is now the QHSSE Assistant Manager. Most recently, in August, Jessica completed her master's degree in emergency services management. |   |   |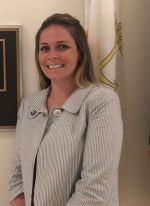 What are some of the things you've improved on or learned more about related to your safety program in 2023 so far?
Like any year, 2023 has brought on new challenges as well as milestones. I personally have ramped up the frequency of my visits to our tugs to what it was prior to COVID, which is invaluable! Although human interaction was still occurring during the COVID years, my lack of in-person visits with our crewmembers drove home the importance of those interactions. From mental health to TSMS comprehension, giving crewmembers undivided attention and time pays remarkable dividends.
Can you talk about Moran's culture and share an example of how it keeps your organization safe?
A philosophy that I have learned (and truly value) is that telling people what to do and how to do it is not always fruitful. Instead, I present what the end result needs to be and ask them to help us achieve that result, which truly allows them to both take ownership and to understand it. Listening to their ideas and implementing them where we can helps to accomplish that ownership. Instead of trying to convince people to implement safety, our culture has crewmembers wanting to be safe.
An example of this: We decided to create a pre-printed Towing Vessel Record (TVR). We (in the office) made what we thought was a great product! Once we brought it to the tugs, the crews used them but not necessarily with open arms. Then I started soliciting ideas on how to make it better. I explained to crews why we needed certain line items, because of regulations or record keeping, and asked them what their ideas were on how to accomplish it. We then took their ideas and incorporated them in the revisions, both big and small, resulting in crewmembers saying they love the TVR and it has been such a help for them.
You have been highly successful in your maritime career. Can you share what you like about our industry and offer some advice for someone who is considering a career in maritime transportation?
One of the biggest pieces of the maritime industry that people don't know is how much it contributes to the world around us - from the television in your living room, to the clothes on your back. If you're looking to make a difference in how the world turns, the maritime industry is the way to go!
If you're looking for a career that will support your family and that won't dissolve or become irrelevant, the maritime industry is it. Moran Towing began in 1860, Kirby was established in 1921, Foss was founded in 1889. But if you'd prefer a young and rising company, the maritime industry has that too. MSC (Mediterranean Shipping Company) was established in 1996 and is a leader in the shipping industry. Curtin Maritime was founded in 1997. The industry is not going away, and it provides secure careers.
Opportunities to contribute to the world and have a secure career are two of the most valuable things to consider when picking a career, both of which the maritime industry provides.
AWO Hosting OCIMF Members for Roundtable at Fall Convention
AWO will hold a roundtable of AWO and OCIMF members at the upcoming Fall Convention on October 11 at the Bellevue Hotel in Philadelphia, PA. The roundtable, which follows an earlier meeting between AWO and OCIMF members in May, will be an opportunity to discuss safety and incident trends, programs including OCIMF's SIRE and AWO's RCP, and partnership possibilities. The partnership with OCIMF is important for AWO, as members of OCIMF are valued customers of our members, and because we share the goal of ensuring that the transportation and bunkering of oil and other liquid cargoes are conducted as safely as possible.
As our two associations work together to find opportunities for collaboration, we have also begun sharing trending safety information. Here is a look at some recent incident trends shared by OCIMF and AWO member SeaRiver Maritime:
Increase in ambient temperatures led to line content expansion (both cargo and operational lines)
Pressure on vent stack not allowed to stabilize prior to opening (procedural non-compliance)
Flange face/gaskets improper inspection prior to usage (inadequate monitoring/lack of situational awareness)
Human error (haste to complete task/two-person check not carried out)
Integrity of cargo pipelines not verified post carrying out maintenance on cargo pipelines
U.S. Coast Guard Issues Interim Rule for DUKW Amphibious Passenger Vessels
In response to the tragic sinking of the Stretch Duck 7 in 2018, which resulted in 17 lives lost, the Coast Guard has issued an
interim rule
to enhance safety for DUKW amphibious passenger vessels operating on navigable waters under its jurisdiction. The rule is effective as of its publication on September 11, 2023, and gives operators 120 days to comply. You can read and comment on the interim rule at
https://www.regulations.gov
(docket number
USCG–2023–0243
).
American Waterways HERO Award Winners - August and September 2023
The American Waterways Honor & Excellence in Rescue Operations (HERO) Award recognizes rescues undertaken by AWO member company employees that demonstrate selflessness, skill, and bravery. AWO is honored to recognize mariners for the great things they are doing every day to protect themselves, their crews, the environment, and the communities in which they operate.
AWO was excited to announce a sponsor for the winners of the award at our Safety Committees' Summer Meeting.
360 Coverage Pros and Berkley Offshore
now offer a one-year complimentary Marine License & Professional Liability Insurance policy to all crew members recognized with the award. Details about how to submit a nomination for the American Waterways HERO Award and the submission form can be found
on the AWO website
.
Please help us thank and shine a spotlight on our industry's heroic mariners by sending in a nomination! Congratulations to these recent recipients of the American Waterways HERO Award:
| | | |
| --- | --- | --- |
| Company | Vessel | Date of Event |
| Parker Towing Company | MV San D | 7/14/2023 |
| Southern Devall Group | MV Lucas Paul Devall | 5/12/2023 |
AWO Now Accepting Nominations for Tankering & Barge Operations Subcommittee Safety Award
AWO's Tankering & Barge Operations Subcommittee is dedicated to improving the safety of barge tankering operations through targeted initiatives that are identified by industry and informed by collaboration with stakeholders. It has been instrumental in raising awareness of best practices and advocating for innovative solutions to improve workplace safety for tankermen.
The Subcommittee is excited to announce it is now accepting nominations for its
2023-2024 Safety Award
. AWO encourages all industry stakeholders to nominate individuals, organizations, companies, or facilities that have improved equipment, personnel, and/or processes to enhance safety of those involved in cargo transfer operations. All nominations should include a description of the specific improvement made and details about how it enhances tankerman safety. Examples of improvement areas include, but are not limited to:
| | |
| --- | --- |
| Mooring | Vessel to shore communications |
| Access/egress | Flow rate controls |
| Fall overboard & slip/trip/fall prevention | Line clearing operations |
| Transfer equipment handling | Exceptional safety contributions |
AWO High Potential Learning Value Near Miss
Near Miss and Stop Work events are leading indicators that provide operators with an opportunity to identify and address weaknesses in a safety management system before a hazardous condition or lack of procedure contributes to an injury or incident.
We are highlighting recent High Potential Learning Value Near Misses submitted voluntarily by AWO members. To submit your own Near Miss or Stop Work event,
please use this form
.
Safety Equipment Not Installed Correctly After Painting
MEMBER-SUBMITTED NEAR MISS 23-11
A towing vessel crewmember attempted to bring life rings down to be cleaned and remove paint that had gotten on them from recent painting. The starboard side wheelhouse life ring would not budge; upon inspection, the vessel's crew discovered that whoever mounted the bracket that holds the light for the life ring drilled through the metal into the back of the life ring, preventing it from being accessible in the event of a fall overboard (FOB).
The bracket was removed and reinstalled correctly.
POSSIBLE IMPACTS OF THIS EVENT COULD HAVE INCLUDED:
Inability to quickly deploy the life ring in the event of a FOB.
Fall Overboard not being rescued – possible severe injury or fatality.
Perpetuation of mistake if not corrected – other life rings possibly installed improperly.
LESSONS LEARNED & FUTURE RISK MITIGATION:
After doing any work on lifesaving appliances (installing attachments, etc.), double-check that they can be accessed quickly.
Frequently check lifesaving appliances for proper operation as part of a pre-departure or pre-navigation checklist.
Perform drills using lifesaving equipment, which will ensure lifesaving appliances are regularly tested for function by all crew members. Ensure crew has proper oversight if they are not familiar with a certain operation. This incident may have followed a crew member's first time painting a boat or installing a life ring.
Ensuring that the master of the vessel understands the experience level of crew members will help the master focus oversight where needed. This is especially important when the crew is performing tasks that have high potential for complacency (like painting).
NTSB Renews Call for Safety Management Systems for Passenger Vessels
The National Transportation Safety Board (NTSB) has renewed its call for the U.S. Coast Guard to require safety management systems (SMS) for passenger vessels, four years after the tragic fire on the Conception dive boat that claimed 34 lives. Despite implementing many of the NTSB's
recommendations
from the Conception investigation in December of 2021, the Coast Guard has yet to act on this recommendation. In a
letter
to the Coast Guard, NTSB Chair Jennifer Homendy urged the agency to issue regulations within 30 days.
On the morning of September 2, 2019, the Conception was consumed by flames while anchored just 100 feet from shore off Santa Cruz Island, California. All 33 passengers and one crewmember lost their lives due to smoke inhalation, and the exits from the berthing area were found to be inadequate and blocked by fire. The NTSB's investigation into this unfortunate event concluded that the adoption of an SMS could have allowed Truth Aquatics, Inc., the owner and operator of the Conception, to identify and address unsafe practices and fire risks, potentially preventing this loss of life.
NTSB Reports Two Harbor Assist Incidents Caused by Excessive Speed
The National Transportation Safety Board (NTSB) has highlighted the dangers of excessive speed during bow-to-bow harbor-assist maneuvers by azimuthing stern drive (ASD) tugboats following its investigation of two incidents in 2022.
The most recent incident involved the grounding of the CC Portland in the Corpus Christi Ship Channel on
August 7, 2022
, which resulted in $1.3 million in damage but no injuries. In a similar incident on
April 14, 2022
, a collision between the tugboat George M and containership MSC Aquarius caused damages exceeding $900,000. The NTSB found that excessive speed was a key factor for both incidents.
Lessons Learned:
From the NTSB: It is important to set speed limits for bow-to-bow harbor-assist operations involving ASD tugboats. Excessive speed during these maneuvers poses a heightened risk of accidents, as hydrodynamic forces around the assisted vessel's bow increase significantly with speed, while the tugboat's available reserve propulsion power decreases. Speed limits can vary based on the tugboat's design. It is crucial for the speed limit to be communicated to pilots and ship masters before beginning the maneuver.
From AWO: Ensuring your organization is performing internal safety management system audits that review operations is critical to identifying risks. Use your annual review to investigate near misses; any changes to operations, including the size and type of vessels that you assist and how speed and experience of the operator can change the risk profile of each assist; and environmental risks, such as operating in areas with restricted ability to maneuver, low water, high water, or obstructions to navigation. Ensuring you review these risks thoroughly before each maneuver, and learning from investigations and near misses shared by AWO, the NTSB, the Coast Guard, and other agencies and associations, can help in continuously improving your safety management system and preventing future incident or injury.
MARAD Publishes Safety Corner Newsletter
The most recent issue of the Maritime Administration's Safety Corner newsletter covers topics including winter preparedness actions to take in autumn, the importance of a Near Miss Reporting System, the risks of high pressure injection injuries, the
Every Mariner Builds a Respectful Culture (EMBARC)
program, and a roundup of upcoming safety meetings. The full newsletter is
available here
.
SSRP – We Need Your Input!
The value of AWO's Safety Statistics Reporting Program depends on the full participation of all eligible members. This includes carrier members who employ or are responsible for vessel crews in their operations. Please visit the
Safety Statistics Reporting Program website
and enter your data for the second quarter (and soon the third quarter) of 2023, as well as any historical data that may be missing. Your submission is confidential and crucial to our industry's benchmarking, advocacy, and safety and sustainability initiatives. If you have any questions, please feel free to contact
Mike Breslin
.