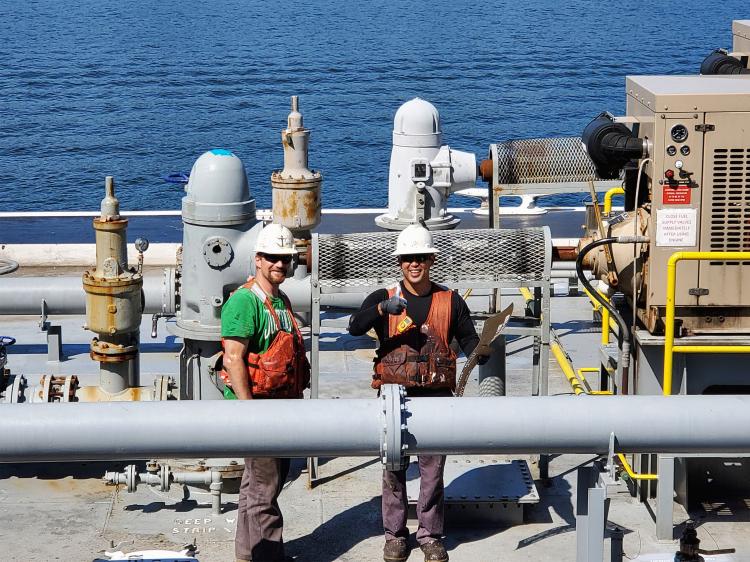 The tugboat, towboat and barge industry is critically important to the nation's economy. With more than 5,000 tugboats and towboats and more than 33,000 barges, the industry moves nearly 665 million tons of domestic cargo each year. The building blocks of our economy – agricultural products, petroleum, coal, chemicals, sand, stone, cement and much more – move on our nation's waterways safely and efficiently. 
Barge transportation helps provide food for our tables, fuel for our cars, heat for our homes, and inputs for our manufacturing facilities. And, the critical harbor services that AWO members provide enable the oceangoing ships that carry U.S. products to export and bring imported goods to our shores from overseas to enter and leave port safely. Water transportation helps move our economy forward.
The industry also puts Americans to work. Tugboat, towboat and barge operators provide family-wage jobs for tens of thousands of hardworking Americans from coast to coast. These operators also support shoreside jobs that ensure the safety, efficiency and environmental stewardship of our industry. Underpinning these jobs is a longstanding maritime law, the Jones Act, which requires that cargo shipped between U.S. ports be transported on vessels that are American-built, -owned and -crewed.
Read More
Industry Facts
See below for additional information, fact sheets and infographics that highlight the safety, environmental, and economic contributions of the nation's tugboat, towboat and barge industry.
The tugboat, towboat and barge industry is the largest segment of the American maritime industry, supporting over 270,000 American jobs.
Each year, the tugboat, towboat and industry moves 665 million tons of cargo - including vital commodities like steel, grain, fuel, and much more.
Water transportation plays a critical role in facilitating the nation's trade, moving 60 percent of U.S. grain for export.
The tugboat, towboat and barge industry contributes over $30 billion to the GDP annually.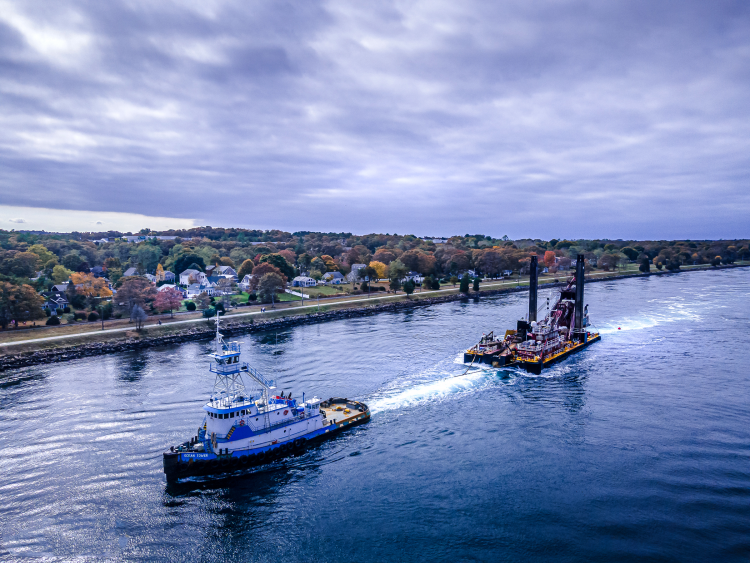 Total Economic Contributions of the US Tugboat,
Towboat, and Barge Industry by State
a Employment is defined as the number of payroll and self-employed jobs, including part-time jobs.
b Labor income is defined as wages and salaries and benefits as well as proprietors' income.
Alabama
Total number of jobs U.S. industry supports in Alabama
3,330
Total GDP U.S. industry contributes to Alabama (in millions)
$342
Total labor income U.S. industry supports in Alabama
$209
Alaska
Total number of jobs U.S. industry supports in Alaska
2,110
Total GDP U.S. industry contributes to Alaska (in millions)
$291
Total labor income U.S. industry supports in Alaska
$168
Arizona
Total number of jobs U.S. industry supports in Arizona
2,040
Total GDP U.S. industry contributes to Arizona (in millions)
$213
Total labor income U.S. industry supports in Arizona
$132
Arkansas
Total number of jobs U.S. industry supports in Arkansas
1,150
Total GDP U.S. industry contributes to Arkansas (in millions)
$105
Total labor income U.S. industry supports in Arkansas
$62
California
Total number of jobs U.S. industry supports in California
23,600
Total GDP U.S. industry contributes to California (in millions)
$3,180
Total labor income U.S. industry supports in California
$2,085
Colorado
Total number of jobs U.S. industry supports in Colorado
1,940
Total GDP U.S. industry contributes to Colorado (in millions)
$224
Total labor income U.S. industry supports in Colorado
$144
Connecticut
Total number of jobs U.S. industry supports in Connecticut
1,390
Total GDP U.S. industry contributes to Connecticut (in millions)
$192
Total labor income U.S. industry supports in Connecticut
$131
Delaware
Total number of jobs U.S. industry supports in Delaware
780
Total GDP U.S. industry contributes to Delaware (in millions)
$89
Total labor income U.S. industry supports in Delaware
$58
District of Columbia
Total number of jobs U.S. industry supports in District of Columbia
390
Total GDP U.S. industry contributes to District of Columbia (in millions)
$66
Total labor income U.S. industry supports in District of Columbia
$49
Florida
Total number of jobs U.S. industry supports in Florida
12,230
Total GDP U.S. industry contributes to Florida (in millions)
$1,146
Total labor income U.S. industry supports in Florida
$735
Georgia
Total number of jobs U.S. industry supports in Georgia
5,050
Total GDP U.S. industry contributes to Georgia (in millions)
$490
Total labor income U.S. industry supports in Georgia
$306
Hawaii
Total number of jobs U.S. industry supports in Hawaii
2,000
Total GDP U.S. industry contributes to Hawaii (in millions)
$232
Total labor income U.S. industry supports in Hawaii
$152
Idaho
Total number of jobs U.S. industry supports in Idaho
580
Total GDP U.S. industry contributes to Idaho (in millions)
$47
Total labor income U.S. industry supports in Idaho
$31
Illinois
Total number of jobs U.S. industry supports in Illinois
12,760
Total GDP U.S. industry contributes to Illinois (in millions)
$1,507
Total labor income U.S. industry supports in Illinois
$927
Indiana
Total number of jobs U.S. industry supports in Indiana
6,290
Total GDP U.S. industry contributes to Indiana (in millions)
$711
Total labor income U.S. industry supports in Indiana
$413
Iowa
Total number of jobs U.S. industry supports in Iowa
1,900
Total GDP U.S. industry contributes to Iowa (in millions)
$191
Total labor income U.S. industry supports in Iowa
$118
Kansas
Total number of jobs U.S. industry supports in Kansas
1,010
Total GDP U.S. industry contributes to Kansas (in millions)
$97
Total labor income U.S. industry supports in Kansas
$58
Kentucky
Total number of jobs U.S. industry supports in Kentucky
16,320
Total GDP U.S. industry contributes to Kentucky (in millions)
$1,641
Total labor income U.S. industry supports in Kentucky
$1,045
Louisiana
Total number of jobs U.S. industry supports in Louisiana
40,830
Total GDP U.S. industry contributes to Louisiana (in millions)
$4,385
Total labor income U.S. industry supports in Louisiana
$2,679
Maine
Total number of jobs U.S. industry supports in Maine
750
Total GDP U.S. industry contributes to Maine (in millions)
$63
Total labor income U.S. industry supports in Maine
$42
Maryland
Total number of jobs U.S. industry supports in Maryland
7,090
Total GDP U.S. industry contributes to Maryland (in millions)
$855
Total labor income U.S. industry supports in Maryland
$537
Massachusetts
Total number of jobs U.S. industry supports in Massachusetts
2,900
Total GDP U.S. industry contributes to Massachusetts (in millions)
$397
Total labor income U.S. industry supports in Massachusetts
$270
Michigan
Total number of jobs U.S. industry supports in Michigan
4,230
Total GDP U.S. industry contributes to Michigan (in millions)
$429
Total labor income U.S. industry supports in Michigan
$276
Minnesota
Total number of jobs U.S. industry supports in Minnesota
2,460
Total GDP U.S. industry contributes to Minnesota (in millions)
$255
Total labor income U.S. industry supports in Minnesota
$158
Mississippi
Total number of jobs U.S. industry supports in Mississippi
4,560
Total GDP U.S. industry contributes to Mississippi (in millions)
$435
Total labor income U.S. industry supports in Mississippi
$259
Missouri
Total number of jobs U.S. industry supports in Missouri
4,400
Total GDP U.S. industry contributes to Missouri (in millions)
$427
Total labor income U.S. industry supports in Missouri
$274
Montana
Total number of jobs U.S. industry supports in Montana
310
Total GDP U.S. industry contributes to Montana (in millions)
$26
Total labor income U.S. industry supports in Montana
$15
Nebraska
Total number of jobs U.S. industry supports in Nebraska
690
Total GDP U.S. industry contributes to Nebraska (in millions)
$75
Total labor income U.S. industry supports in Nebraska
$46
Nevada
Total number of jobs U.S. industry supports in Nevada
1,000
Total GDP U.S. industry contributes to Nevada (in millions)
$95
Total labor income U.S. industry supports in Nevada
$55
New Hampshire
Total number of jobs U.S. industry supports in New Hampshire
540
Total GDP U.S. industry contributes to New Hampshire (in millions)
$62
Total labor income U.S. industry supports in New Hampshire
$42
New Jersey
Total number of jobs U.S. industry supports in New Jersey
6,760
Total GDP U.S. industry contributes to New Jersey (in millions)
$905
Total labor income U.S. industry supports in New Jersey
$627
New Mexico
Total number of jobs U.S. industry supports in New Mexico
490
Total GDP U.S. industry contributes to New Mexico (in millions)
$52
Total labor income U.S. industry supports in New Mexico
$25
New York
Total number of jobs U.S. industry supports in New York
13,830
Total GDP U.S. industry contributes to New York (in millions)
$2,264
Total labor income U.S. industry supports in New York
$1,403
North Carolina
Total number of jobs U.S. industry supports in North Carolina
3,440
Total GDP U.S. industry contributes to North Carolina (in millions)
$361
Total labor income U.S. industry supports in North Carolina
$211
North Dakota
Total number of jobs U.S. industry supports in North Dakota
280
Total GDP U.S. industry contributes to North Dakota (in millions)
$32
Total labor income U.S. industry supports in North Dakota
$16
Ohio
Total number of jobs U.S. industry supports in Ohio
5,620
Total GDP U.S. industry contributes to Ohio (in millions)
$624
Total labor income U.S. industry supports in Ohio
$362
Oklahoma
Total number of jobs U.S. industry supports in Oklahoma
1,260
Total GDP U.S. industry contributes to Oklahoma (in millions)
$145
Total labor income U.S. industry supports in Oklahoma
$82
Oregon
Total number of jobs U.S. industry supports in Oregon
2,590
Total GDP U.S. industry contributes to Oregon (in millions)
$269
Total labor income U.S. industry supports in Oregon
$178
Pennsylvania
Total number of jobs U.S. industry supports in Pennsylvania
7,890
Total GDP U.S. industry contributes to Pennsylvania (in millions)
$887
Total labor income U.S. industry supports in Pennsylvania
$577
Rhode Island
Total number of jobs U.S. industry supports in Rhode Island
520
Total GDP U.S. industry contributes to Rhode Island (in millions)
$55
Total labor income U.S. industry supports in Rhode Island
$35
South Carolina
Total number of jobs U.S. industry supports in South Carolina
3,650
Total GDP U.S. industry contributes to South Carolina (in millions)
$313
Total labor income U.S. industry supports in South Carolina
$204
South Dakota
Total number of jobs U.S. industry supports in South Dakota
290
Total GDP U.S. industry contributes to South Dakota (in millions)
$29
Total labor income U.S. industry supports in South Dakota
$16
Tennessee
Total number of jobs U.S. industry supports in Tennessee
13,350
Total GDP U.S. industry contributes to Tennessee (in millions)
$1,464
Total labor income U.S. industry supports in Tennessee
$921
Texas
Total number of jobs U.S. industry supports in Texas
30,680
Total GDP U.S. industry contributes to Texas (in millions)
$3,445
Total labor income U.S. industry supports in Texas
$2,128
Utah
Total number of jobs U.S. industry supports in Utah
1,080
Total GDP U.S. industry contributes to Utah (in millions)
$107
Total labor income U.S. industry supports in Utah
$64
Vermont
Total number of jobs U.S. industry supports in Vermont
200
Total GDP U.S. industry contributes to Vermont (in millions)
$17
Total labor income U.S. industry supports in Vermont
$11
Virginia
Total number of jobs U.S. industry supports in Virginia
5,260
Total GDP U.S. industry contributes to Virginia (in millions)
$573
Total labor income U.S. industry supports in Virginia
$377
Washington
Total number of jobs U.S. industry supports in Washington
6,980
Total GDP U.S. industry contributes to Washington (in millions)
$991
Total labor income U.S. industry supports in Washington
$627
West Virginia
Total number of jobs U.S. industry supports in West Virginia
2,040
Total GDP U.S. industry contributes to West Virginia (in millions)
$199
Total labor income U.S. industry supports in West Virginia
$127
Wisconsin
Total number of jobs U.S. industry supports in Wisconsin
2,110
Total GDP U.S. industry contributes to Wisconsin (in millions)
$213
Total labor income U.S. industry supports in Wisconsin
$131
Wyoming
Total number of jobs U.S. industry supports in Wyoming
190
Total GDP U.S. industry contributes to Wyoming (in millions)
$23
Total labor income U.S. industry supports in Wyoming
$11