Navigating to Zero - August 29, 2023
| | | |
| --- | --- | --- |
| AWO's Tankering & Barge Operations Subcommittee is dedicated to improving the safety of barge tankering operations through targeted initiatives that are identified by industry and informed by collaboration with stakeholders. It has been instrumental in raising awareness of best practices and advocating for innovative solutions to improve workplace safety for tankermen. |   |   |
| | |
| --- | --- |
| Mooring | Vessel to shore communications |
| Access/egress | Flow rate controls |
| Fall overboard & slip/trip/fall prevention | Line clearing operations |
| Transfer equipment handling | Exceptional safety contributions |
The 2022 crewmember fatality rate per 100,000 full-time employees (FTE) was the second-lowest ever recorded by the Partnership;
Four towing vessel crewmembers died in incidents related to towing vessel operations in 2022. Two of the fatalities were attributable to a fall into water, one was the result of being struck by a line, and one was due to being struck by a suspended load during crane operations; and
For the second year running, the Partnership recorded the lowest tank barge oil spill volume since 2010 and the second-lowest ever: 3,109 gallons. The tank barge spill rate for 2022 is only 0.05 gallons of oil, or less than one cup, per million gallons transported.
Torn leather or rubber that exposes the foot;
Missing laces or straps; and
Worn soles: Boots must be discarded or re-soled when soles are worn out and become a slip hazard.
 
POSSIBLE IMPACTS OF THIS EVENT COULD HAVE INCLUDED:
Breakaway of the barge from the ship.
Environmental impacts including a spill to water.
Property damage, loss of cargo, operational delays, and injuries to personnel on the barge, ship, and in the area of operations.
LESSONS LEARNED & FUTURE RISK MITIGATION:
Shortcuts lead to incidents. Reporting this event and discussing the chain of events that led to the issue being discovered and corrected can prevent similar choices from being made in the future.
The proper equipment was located on the barge but was not used. To prevent future incidents, it is important to discuss WHY a choice was made to not use the correct rigging. This will be accomplished by socializing the event with vessel and shoreside personnel.
The operator informed the terminal and its own management at the time of the event. Based on that report, the operator elected to amplify the report by discussing it at an upcoming safety meeting. This will facilitate learning, inform potential procedural changes, and support improved training curriculum for tankermen and operators at the reporting company.
Swiss cheese model by James Reason published in 2000(1). Depicted here is a more fully-labelled black and white version published by NIOSH.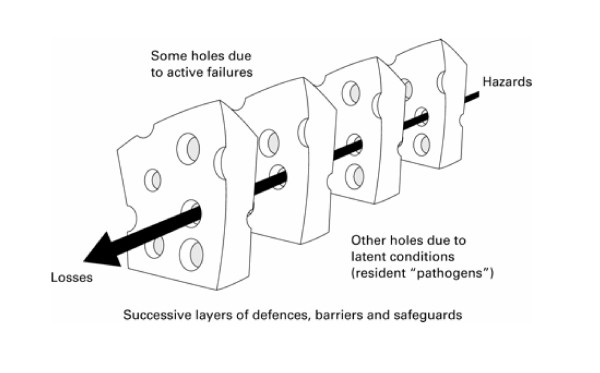 | | |
| --- | --- |
| Casualty type | Collision |
| Location | Sabine Pass, Port Arthur, Texas |
| Date | August 21, 2022 |
| Time | 1045 Central Standard Time |
| Injuries | None |
| Property damage | $3.4 million est. |
| Environmental damage | None |
From the NTSB: After an engine's crankcase is opened and exposed to ambient air conditions during maintenance and repair, it is good practice for engine crews to inspect and test the lubricating oil system for water intrusion and ensure lube oil purifying equipment is functioning properly to remove any water or other contamination in the lube oil.
From AWO: As our industry considers the impacts of adding engine system components such as diesel particulate filters and other after-treatment technology, there is a risk that these additions will include sensors capable of shutting down engines. Whenever components that have the ability to shut down an engine are installed, vessel maintenance and management should perform a thorough management of change analysis to consider the risks and best practices applicable. Procedures should be instituted as needed to address risk and management should ensure the procedures are effective and performed on schedule.
| | | |
| --- | --- | --- |
| AWO is excited to announce that the award package has grown! American Waterways HERO awardees now receive a custom-minted American Waterways HERO challenge coin, a certificate recognizing their vessel or facility, and, thanks to sponsors 360 Coverage Pros and Berkley Offshore, a complimentary one-year Marine License & Professional Liability Insurance policy. |   |   |
| | | |
| --- | --- | --- |
| Company | Vessel | Date of Event |
| Turn Services LLC | Omaha | 1/17/2023 |
| Middle River Marine, LLC. | Elyse Noelle / Lemont Terminal | 8/2/2023 |
A Recipe for a Healthier You

Garlic Parmesan Chicken

Looking for something low-carb? Pair this dish with mashed cauliflower potatoes or zucchini noodles. Adapted from

Keto Karma

.

 

 
| | | |
| --- | --- | --- |
| PREP TIME | TOTAL TIME | SERVINGS |
| 5 min | 30 min | 4 |
| | |
| --- | --- |
| 4 boneless, skinless chicken thighs | 4 cloves of garlic, minced |
| ½ teaspoon salt | ¼ cup grated parmesan cheese |
| ¼ teaspoon black pepper | ¼ teaspoon red pepper flakes |
| ¼ cup butter, separated | 3 tablespoons chopped fresh basil |
Season the chicken thighs with salt and pepper.
Melt 2 tablespoons of butter in a skillet over high heat. When very hot, place chicken thighs in the pan.
Brown the chicken on one side for 5-6 minutes, then flip the thighs and turn the heat down to medium. Cook the chicken for another 8-10 minutes, until the internal temperature reaches 165 degrees.
When cooked through, remove the chicken to a plate.
Turn the heat to low and add the remaining butter, garlic, red pepper flakes and basil to the skillet. Stir until the butter melts and garlic is fragrant.
Return the chicken to the skillet and sprinkle 1 tablespoon of parmesan cheese on each thigh. Spoon the sauce on top and serve.
| | | |
| --- | --- | --- |
| Calories: 308kcal | Fat: 20g |   |
| Carbohydrates: 2g | Fiber: 1g | Protein: 32g |
Chicken thighs are a great source of protein. They also contain more iron than chicken breasts.