AWO Letter - June 21
EPA Updates Guidance for State NDZ Applications.
On June 12, the U.S. Environmental Protection Agency (EPA) published its updated
Guidance for Vessel Sewage No-Discharge Zone
applications. The new guidance is responsive to many of AWO's recommendations from
comments
the association sent on EPA's draft revisions in August 2022, including requiring states use AIS data instead of vessel documentation information to better estimate the commercial vessel population in a proposed NDZ, clarifying what information is required versus optional, and updating the cost analysis tool to better reflect the cost associated with using a pumpout facility. The updated guidance also requires applicants to specifically analyze the impact an NDZ will have on commercial vessel operations, whereas the previous version allowed states to generalize impact based on recreation vessel activity. However, states are still not required to include certain information in NDZ applications, such as pumpout facility operating capacity, draft and berth limitations, or types of vessels serviced. If you have any questions, please contact
Caitlyn Stewart
.
Board Approves Path Forward on Harassment Reporting Requirement.
On June 12, AWO's Board of Directors held a virtual meeting to discuss next steps to support members in navigating new statutory requirements to report complaints or incidents of harassment, sexual harassment and sexual assault to the U.S. Coast Guard. The Board approved a three-part plan recommended by the Executive Committee that includes both an advocacy strategy and member education and compliance assistance. For more information, please register for one of AWO's
Regional Roundtables
or contact
Caitlyn Stewart
.
Louisiana Legislature Unanimously Passes Jones Act Support Resolution.
House Concurrent Resolution 4, sponsored by Representative Joseph Orgeron, expresses Louisiana's "resolute support for the Jones Act" and celebrates its role in "fostering a strong domestic maritime industry that is critical to Louisiana's and the nation's security and economic prosperity." The Louisiana House of Representatives passed
HCR4
by a vote of 97-0 and the State Senate by 34-0. During a
House committee hearing
(5:00-21:30), Michael Nation of AWO member Harbor Towing & Fleeting delivered exceptional testimony in support of the resolution, explaining the importance of the Mississippi River system to food and energy production and the need for Louisiana to support the Jones Act and "to send a message to Washington to say that 'we want to protect, as a matter of national security' our Mississippi River and her tributaries." Nation also pointed to the career opportunities Harbor Towing & Fleeting and the domestic maritime industry create, urging state legislators to send a clear, bipartisan message to Congress to support the Jones Act.
Anti-Jones Act Resolution Defeated in New Hampshire.
The New Hampshire House of Representatives recently voted down a bill (
SB 102
) calling on the state's Department of Energy to study the impact of the Jones Act on the cost of liquified natural gas and home heating oil. AWO worked with members of the House Commerce Committee to defeat the bill and testified before the committee in April to highlight the factual errors in the legislation. In particular, AWO's testimony highlighted the negligible impact of transportation costs on the price of LNG and home heating oil and emphasized the national security importance of the Jones Act. Special thanks to Ned Moran of Moran Towing for providing insight and information to illustrate that the Jones Act is not a burden on New England.
Congress Changes NEPA Requirements in Debt Ceiling Law
. On June 3, President Biden signed
bipartisan compromise legislation
raising the debt ceiling that includes changes to the National Environmental Policy Act (NEPA), the law that requires federal agencies to perform an Environmental Assessment (EA) or Environmental Impact Statement (EIS) prior to undertaking any major federal action that significantly affects the environment. The first major changes to NEPA since its passage in 1969, the new provisions: set page and time limits for writing an EA or EIS; establish a "lead agency" to do the environmental analysis when multiple agencies are involved; allow permitting project sponsors to draft their own EAs and EISs; and require agencies to consider only "reasonably foreseeable" environmental impacts and a "reasonable range" of alternatives that are "technically and economically feasible."
These changes have the potential to streamline and expedite permitting for projects like offshore wind installations or lock and dam improvements, but also could lead to a decrease in agencies' stakeholder engagement in the interest of time. If you have any questions, please contact
Leah Harnish
.
Jones Act Fleet Prepares for Hurricane Season. The National Oceanic and Atmospheric Administration is predicting a 40% chance of a near-normal hurricane season this year, with 12-17 named storms and 1-4 major hurricanes. Atlantic hurricane season began on June 1 and runs through November 30.
AWO and the American Maritime Partnership (AMP) have compiled Jones Act fleet and contact information to quickly demonstrate the availability of coastwise-qualified vessels to perform transportation, emergency response, and recovery efforts following major storms. Additionally, this will be the first hurricane season since Congress took strong action in the most recent National Defense Authorization Act to minimize the use of unwarranted administrative waivers of the Jones Act, including a prohibition on blanket waivers, increased transparency and public notice requirements, and a ban on issuing waivers to foreign vessels opportunistically laden with cargo prior to the waiver request.
Unapproved Courses at Mid-Atlantic Maritime Academy May Impact Mariner Credentials.
A recent Coast Guard investigation determined that between January 2015 and December 2019, instruction hours for evening courses at Mid-Atlantic Maritime Academy were cut by 50% or more and end-of-course exams for those courses may have been compromised, thus failing to adhere to Coast Guard course approvals. As a result, course completion certificates issued for
those courses
are invalid. To minimize operational impacts, the National Maritime Center (NMC) has
issued guidance on actions mariners must take
to retain endorsements associated with the impacted courses.
OCIMF Releases 2023 Annual Report. The Oil Companies International Marine Forum (OCIMF) has published its 2023 Annual Report highlighting the major accomplishments of its Principal and Functional Committees. The report acknowledges that the SIRE 2.0 program's new inspection scheme is a significant departure from the existing SIRE program and describes the four-phase implementation and eight key amendments of SIRE 2.0. The report also details SIRE 2.0's move toward digital, including tablet-based, inspections.
The report also discusses OCIMF's reinvigorated industry engagement and collaboration programs. OCIMF Barge Advisor Ton Mol highlighted the AWO Safety Committees' August 2022 Summer Meeting, AWO's TPO Summit, and a visit to Canal Barge's terminal in Joliet, Illinois, as highpoints of the OCIMF trip to the United States.
John McCown Joins AWO President & CEO on American Maritime Podcast.
John D. McCown, founder of Blue Alpha Capital founder and Non-Resident Senior Fellow at the Center for Maritime Strategy, joined host Jennifer Carpenter, AWO President & CEO, on
the latest episode of the American Maritime Podcast
. He shared his insights on innovation in the maritime industry, Jones Act opponents' inaccurate math, and more.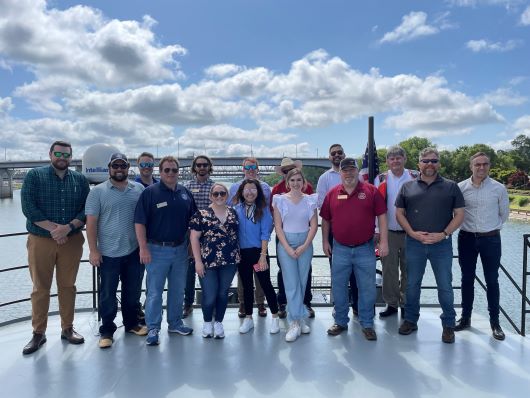 Southern Devall Hosts Towboat Tour. On June 14, AWO and Southern Devall hosted a congressional towboat tour in Little Rock, AR onboard the m/v Robert Yount. Nine congressional and two gubernatorial staffers attended the tour, representing the offices of Arkansas Senators John Boozman and Tom Cotton, Representatives Bruce Westerman, Rick Crawford, and French Hill, and Governor Sarah Huckabee Sanders. Thank you to Southern Devall for sponsoring this successful tour!
Union And Ports Reach Tentative Agreement to End Stalemate on West Coast. The International Longshore and Warehouse Union (ILWU) and Pacific Maritime Association agreed in principle to a six-year contract, ending the impasse that led to the recent closure of ports along the West Coast. ILWU delegates are now expected to approve the contract, which could take a few months to ratify. This deal would cover 22,000 workers in 29 West Coast ports. According to reports, longshore workers on the U.S. West Coast secured a 32% salary increase over the six-year contract but did not receive the increased manning for conventional terminals they sought during the 13-month negotiations.
Coast Guard Releases Final PACPARS. U.S. Coast Guard Districts 11 and 13 recently released the Pacific Coast Port Access Route Study (PACPARS), which determined that a voluntary navigation fairway is needed from Puget Sound to Los Angeles. The study also recommends fairway zones along the Washington and Oregon coasts that reflect the traditional tugboat-crabber lanes as well as nearshore and port approach fairways along the California coast. Coast Guard headquarters will now take up the study, aimed at ensuring safe navigation as ocean development, including wind energy facilities, moves forward, to initiate a rulemaking process.
Puget Sound's Port of Everett Approves Commercial Pump Out. At its recent port commission meeting, the Port of Everett approved a commercial pump out, moving forward with plans to install a pump geared toward commercial vessels that will pair with the port's new fuel dock. The project will soon go out to bid and is projected to be ready in 2025.
Please Join Us at an AWO Summer Event!
Thank you to all who attended our Ohio Valley and Southern Region roundtables this month! We still have more meetings ahead this summer -- register today to join the AWO staff and member colleagues for one or more of our upcoming events. Registration is now open on your
AWO Member Dashboard
, or contact
AWO Meetings
for assistance.
All employees of AWO member companies are warmly welcome to attend -- company executives, operations managers, safety professionals, port captains, mariners, you name it. Your AWO membership benefits all your teammates!
August 1 – Pacific Region Roundtable, San Francisco, CA
August 3 – Midwest Region Roundtable, Chicago, IL
August 16-17 – Safety Committees' Summer Meeting, St. Louis, MO
August 23 – Atlantic Region Roundtable, Staten Island, NY