Safety Committees' Summer Meeting 2021
Chicago, IL
August 11, 2021

Join your AWO colleagues and staff in Chicago for our Summer Safety Committees' Meeting!
For those of you that cannot attend in person, AWO will be recording and posting this meeting for all members. On the registration page, attendees will have the ability to select "in-person" or "virtual" attendance to be alerted when the recordings are published.
AWO's Summer Safety Committees' meeting will be chockfull of educational and informational content. The Safety Leadership Advisory Panel has assembled leading speakers and panels on pertinent safety topics such as dealing with hot and cold working environments, preventing falls overboard, assessing mariner resilience and wellbeing, mitigating distracted operations, improving situational awareness, and challenges and opportunities associated with artificial intelligence. We will also have updates and discussions on lessons learned from COVID-19 for future unpredictable events, environmental stewardship best practices, safety statistics data performance, and much more!
Safety remains the significant factor that unifies all elements of the tugboat, towboat and barge industry, and the maritime industry generally. The joint meeting of the Coastal and Interregion Safety Committees will continue to highlight the challenges and opportunities that exist as our industry navigates our transitioning safety landscape and provide updates on the different AWO safety initiatives and programs.
Hotel Information
The Drake Hotel
140 E Walton Pl, Chicago, IL 60611 Get Directions
For our members' convenience, a block of rooms has been reserved at The Drake Hotel at a rate of $169 per night, exclusive of taxes and fees. Reservations may be made online by clicking here, or you may make your reservation by calling (800) 55-DRAKE and referencing the "AWO Meeting." If you are planning to reserve hotel room nights outside the meeting dates, please plan to make your reservation by phone. The last day to reserve hotel rooms is Monday, July 19, or until all rooms are reserved, whichever occurs first.
AWO is committed to the safety, health and well-being of all event attendees. We will adhere to federal, state and local authorities' rules and regulations, including up-to-date precautions and best practices issued by the Centers for Disease Control and Prevention, and encourage all attendees to do likewise. Learn what the hotel is doing to prepare for a CleanStay for attendees!
Contact afazzini@americanwaterways.com with any questions. We can't wait to see you all soon!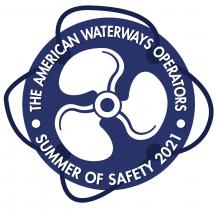 Schedule At-A-Glance
Wednesday, August 11, 2021
9:00 a.m. - 11:00 a.m.

Safety Leadership Advisory Panel Meeting
Please Contact bbailey@americanwaterways.com If You Are Interested in Joining This Committee

Astor Room
11:00 a.m. - 12:30 p.m.

Subcommittee on Tankering & Barge Operations
Please Contact bbailey@americanwaterways.com If You Are Interested in Joining This Subcommittee

French Room
1:00 p.m. - 5:00 p.m.

Safety Committees' First Session
All Members & Special Guests Welcome

Grand Ballroom
5:30 p.m. - 6:30 p.m.

Safety Committees' Reception
All Members & Special Guests Welcome

Club International
7:00 p.m. - 9:30 p.m.

Safety Committees' Social Dinner*
All Members & Special Guests Welcome; Separate RSVP Required

Francesca's on Chestnut 200 E Chestnut Street Chicago, IL 20211
Thursday, August 12, 2021
7:00 a.m. - 8:00 a.m.

Networking Breakfast
All Members & Special Guests Welcome

Grand Ballroom
8:00 a.m. - 12:00 p.m.

Safety Committees' Second Session
All Members & Special Guests Welcome

Grand Ballroom